$2,000

Top Prize

$1

Ticket

1:3.80

overall odds

84.07%

sold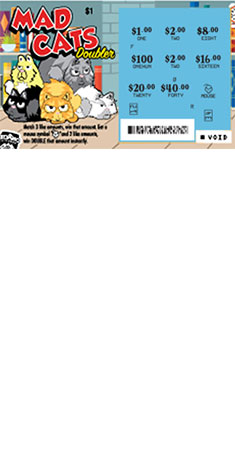 With all the attention the birds got over being angry a few years back, the Idaho Lottery decided it was time for the cats to get in on the action. Introducing the $1 game, Mad Cats Doubler, where players can scratch their way to winning up to $2,000.
These domesticated felines hanging out on the window sill probably look tougher than they are, just waiting to pounce on the winnings you receive from scratching under the game's nine ferocious looking set of claw marks. It could be your own version of "cat scratch fever" when you win one of the game's top prizes of $2,000.
Of course, the colorful kitty-cat characters on each ticket have the look of either saying, "Now what about those birds," or, "How 'bout winning a couple of grand?" Either way, it's your choice, but we'd stick with taking the cash.
Number of Prizes
Prize Amount
Remaining Prizes
Odds
3
$2,000
1
1:285,100
110
$100
35
1:7,775
982
$40
305
1:871
2,142
$16
not available*
1:399
4,986
$8
not available*
1:172
23,526
$4
not available*
1:36
80,522
$2
not available*
1:11
112,597
$1
not available*
1:8
* Real time data on prizes below $25 are not available.