$300,000

Top Prize

$30

Ticket

1:2.99

overall odds

24.09%

sold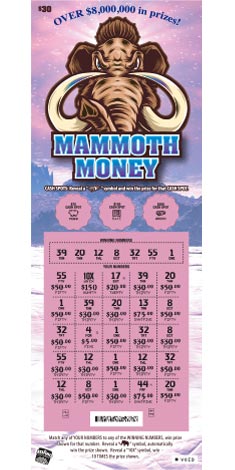 There's wildlife afoot in Idaho that's let loose from the ice age and it's stomping its way to a retail store near you. Big, bold, and carrying lots of cash, Mammoth Money features a massive Wooly Mammoth on the ticket art and a top prize of $300,000. That's a lot of cash; a mammoth pile of it.
To play the game, start by scratching the three Cash Spots. If you reveal a STACK OF MONEY symbol, you win the prize for that Cash Spot, $75, $100, or $200, instantly. Then, players scratch their WINNING NUMBERS hidden under the seven cavemen. You match those numbers to any of the YOUR NUMBERS under the 25 frozen dollar signs. If you make a match, you win the prize. If you reveal a Wooly Mammoth symbol, you automatically win the prize shown. If you reveal a 10X symbol, you win ten times the prize.
In total, this game features mammoth amounts of prizes and winnings, with over $8,000,000 up for grabs.
Winning this game's top prize will move you from the ice age to the modern era. So, be on the hunt for your Wooly Mammoth and play Mammoth Money from the Idaho Lottery. The really "big game" Scratch Game, with a mammoth sized top prize of $300,000!
Number of Prizes
Prize Amount
Remaining Prizes
Odds
2
$300,000
2
185515
6
$2,500
5
61838
63
$1,000
52
5889
9246
$200
7262
40
10815
$100
8525
34
14782
$75
11684
25
41866
$50
32959
9
47222
$30
37128
8
*Real time data on prizes below $25 are not available.
All tickets, transactions, and winners are subject to Lottery Rules and State Law. Prizes must be claimed within 180 days after the official end of game. Persons altering tickets are subject to prosecution. You must be at least 18 years old to purchase a ticket.