$50,000

Top Prize

$5

Ticket

3.58

overall odds

84.41%

sold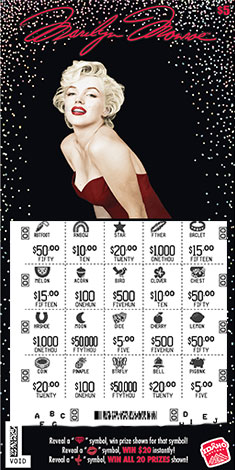 Marilyn Monroe. Her very name exudes a certain alluring quality, yearning for romance, the epitome of glamor. Her image is reminiscent of an era long past in American culture, yet one that endures as a great, lasting icon from the golden age of cinema. No one wishes "love" better than Marilyn, so it's only fitting she grace our Valentine's Day Scratch Game this year with two commemorative images on this $5 scene game. Plus this game has a vintage top prize of $50,000. Now that's a dazzling top prize everyone would prefer. It's enough to make you say, "Wooh, baby."
Hidden beneath the enduring images of Marilyn are twenty blood-red hearts. Players scratch the hearts and search for perhaps the single most iconic symbol associated with Marilyn, ever. Diamonds. Players who reveal a DIAMOND symbol win the prize shown for that symbol. Need a little extra love? Reveal a 'KISS' symbol and win $20 instantly. Reveal a MARILYN MONROE symbol and win all 20 prizes on that ticket instantly.
Celebrate this Valentine's Day with love, in classic Hollywood fashion with the most glamorous Scratch game to grace the red carpet, er, uh, the ticket dispensers at your favorite local lottery store. You could win one of the two $50,000 prizes. And that would certainly be enough to say, "Wooh, baby."
Marilyn Monroe ™; Rights and Publicity and Persona Rights are used with permission of The Estate of Marilyn Monroe LLC. Photos by Milton H. Green © 2018 Joshua Greene. marilynmonroe.com
Number of Prizes
Prize Amount
Remaining Prizes
Odds
2
$50,000
1
204075
4
$1,000
0
102038
98
$500
18
4165
294
$100
53
1388
4691
$50
873
87
13602
$20
not available*
30
10902
$15
not available*
37
29909
$10
not available*
14
54422
$5
not available*
8
*Real time data on prizes below $25 are not available.