$1,000

Top Prize

$1

Ticket

1:3.87

overall odds

36.72%

sold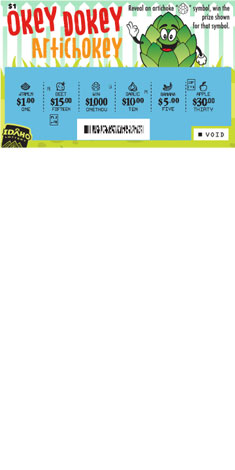 Simply offering the phrase of "Okey Dokey Artichokey" to someone is really almost like wishing them good health! Artichokes are a known source of medicinal properties dating back to the 4th Century AD. Their health benefits help prevent cancer, support heart health, treat liver diseases, manage diabetes, lower cholesterol levels, protect the bones, enhance brain function, slows down the aging process, prevents viral infections, and is a good source of protein.
And adding to this lengthy list of health benefits, artichokes could be good for your financial health, too. Well, at least Okey Dokey Artichokey the Scratch Game could be. With abundant sunshine and warmer days ahead, Okey Dokey Artichokey is ideal of spring and summer, with a sunny disposition, a loveable friendly Artichoke and six read watering cans filled with prizes. In the game, players scratch the watering cans to reveal symbols and prizes. If a player reveals an "ARTICHOKE" symbol, they win the prize shown for that symbol, up to $1,000!
Work on your health this spring, physically and financially; pick up an artichoke in the produce section and an Okey Dokey Artichokey from a traditional Idaho Lottery selling location. It could be your ticket to $1,000!
Number of Prizes
Prize Amount
Remaining Prizes
Odds
2
$1,000
2
400650
298
$30
203
2689
1353
$15
not available*
592
5988
$10
not available*
134
10023
$5
not available*
80
30033
$3
not available*
27
74180
$2
not available*
11
85321
$1
not available*
9
*Real time data on prizes below $25 are not available.