$50,000

Top Prize

$5

Ticket

1:3.83

overall odds

90.42%

sold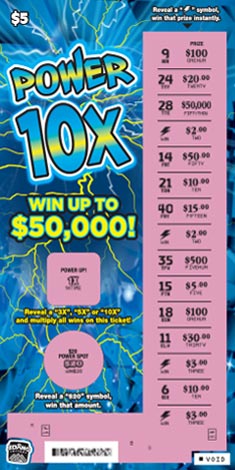 Power up, Idaho! This supercharged ticket is part of the Power Family of games, loaded with prizes and is easy to play.
In the game, scratch the dollar symbols. If you reveal a lightning bolt symbol, you win the prize shown for that symbol. Then, you scratch the Power Up box to multiply your winnings.
The electric blue version of this game is a lot like it's $2 cousin but has an instant $20 Power Spot on the game. If you scratch the spot and reveal a $20 symbol, you win that amount instantly, plus any other prizes from any and all of the 15 prize spots. Plus, when you Power Up on this game, you're multiplying the prizes by 3x, 5x, or 10x the prizes. Not to mention you could claim the game's top prize of $50,000!
Flip the switch and turn on this game! It's Power 10x, where you can win up to $50,000! That's some serious voltage!
Number of Prizes
Prize Amount
Remaining Prizes
Odds
2
$50,000
0
306975
3
$1,000
0
204650
60
$500
8
10233
147
$100
15
4177
9816
$50
788
63
2871
$30
231
214
18434
$20
not available*
33
16372
$15
not available*
38
42884
$10
not available*
14
69704
$5
not available*
9
*Prizes are updated once daily. Prizes below $25 are not available.
All tickets, transactions, and winners are subject to Lottery Rules and State Law. Prizes must be claimed within 180 days after the official end of game. Persons altering tickets are subject to prosecution. You must be at least 18 years old to purchase a ticket.