$2,000

Top Prize

$1

Ticket

1:2.37

overall odds

94.65%

sold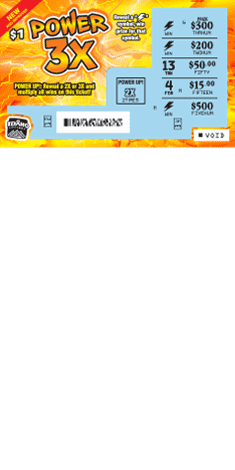 Power up, Idaho! This supercharged ticket is part of the Power Family of games, loaded with prizes and is easy to play.
In the game, scratch the dollar symbols. If you reveal a lightning bolt symbol, you win the prize shown for that symbol. Then, you scratch the Power Up box to multiply your winnings.
On this strikingly gold version, you have five chances to win up to $2,000 on this game and can multiply your prizes by 2x or 3x. All non-winning $1 Power 3x tickets are eligible for entry into a once a week drawing to win $100. Players may enter at vip.idaholottery.com or by tele-entry at 208-334-4656.
Flip the switch and turn on this game! It's Power 3x, where you can win up to $2,000! That's some serious voltage!
Number of Prizes
Prize Amount
Remaining Prizes
Odds
2
$2,000
1
361650
123
$100
15
5880
173
$50
18
4181
3617
$15
not available*
200
4822
$9
not available*
150
9031
$4
not available*
80
47042
$2
not available*
15
239873
$1
not available*
3
*Prizes are updated once daily. Prizes below $25 are not available.
All tickets, transactions, and winners are subject to Lottery Rules and State Law. Prizes must be claimed within 180 days after the official end of game. Persons altering tickets are subject to prosecution. You must be at least 18 years old to purchase a ticket.