$10,000

Top Prize

$2

Ticket

1:3.97

overall odds

95.33%

sold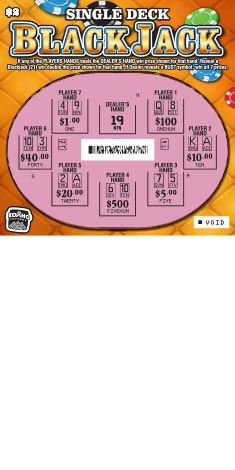 It's about as old school as you can get - $2 a ticket and a single deck to play Blackjack against the dealer. Only this time, don't be surprised if you're not holding all the cards at the table on your way to winning the game's top prize of $10,000. Now that's doubling down!
In the game, players receive 7 hands to try and beat the Dealer's Hand. If any of the PLAYERS HANDS beats the DEALER'S HAND, you win the prize shown for that hand. Get a Blackjack (21) and you win double the prize shown for that hand. If Dealer reveals a BUST symbol, win all 7 prizes from each hand.
Each hand is played separately.
There's just something about playing against the dealer when there's only one deck to play from. Play Single Deck Blackjack for your chance to win $10,000!
Number of Prizes
Prize Amount
Remaining Prizes
Odds
2
$10,000
0
246000
4
$500
0
123000
125
$100
5
3936
1964
$40
145
251
4920
$20
not available*
100
7377
$10
not available*
67
19686
$5
not available*
25
23372
$4
not available*
21
66416
$2
not available*
7
*Real time data on prizes below $25 are not available.
All tickets, transactions, and winners are subject to Lottery Rules and State Law. Prizes must be claimed within 180 days after the official end of game. Persons altering tickets are subject to prosecution. You must be at least 18 years old to purchase a ticket.