$50,000

Top Prize

$5

Ticket

1:3.47

overall odds

90.18%

sold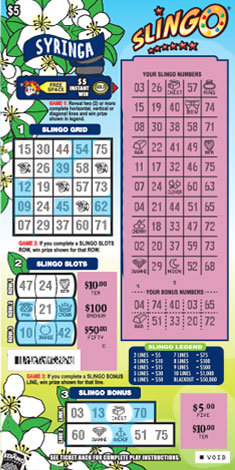 It's a beautiful homage to the great State of Idaho. Bursting with flowering buds of the state's official flower, the Syringa, and covered with mountain blue jays and monarch butterflies, it's a ticket that blends cash winnings with springtime fever and $50,000 worth of celebration for the State of Idaho. It's Syringa Slingo, the $5 game that will have you feeling great about Idaho, her official state symbols, and a whole bundle of cash.
This stunning, Slingo game has a Slingo grid, a slots grid, and Slingo Bonus box to win prizes from, not to mention the usual instant $5 gold coin wins and Slingo joker free spaces. All in all, you get three great Slingo games for just $5!
Players scratch all of YOUR SLINGO NUMBERS hidden under all Syringa buds, blue jays and butterflies. Then scratch the beautiful Syringa bud to reveal BONUS NUMBERS. In Game 1, you scratch the corresponding numbers on the SLINGO GRID area for each number that matches any of YOUR SLINGO NUMBERS. If you reveal two (2) or more complete horizontal, vertical, or diagonal lines, you win the prize shown in prize legend.
In Game 2, Slingo Slots, using YOUR SLINGO NUMBERS and BONUS NUMBERS, if you complete an entire row, you win the prize hidden under the corresponding Syringa flower.
In Game 3, players use all their SLINGO NUMBERS and the BONUS NUMBERS to match the corresponding numbers and symbols on the SLINGO BONUS play area. If you complete an entire row, you win the prize hidden under the corresponding Syringa flower.
Not only will this game make you feel proud to be an Idahoan, but it could also win you an official top prize of $50,000! Syringa Slingo, because here we have Idaho!
Number of Prizes
Prize Amount
Remaining Prizes
Odds
2
$50,000
1
384938
4
$1,000
0
192469
12
$500
2
64,156
623
$100
74
1236
768
$75
86
1002
7451
$50
951
103
10532
$30
1324
73
38388
$15
not available*
20
59048
$10
not available*
13
105185
$5
not available*
7
*Real time data on prizes below $25 are not available.
All tickets, transactions, and winners are subject to Lottery Rules and State Law. Prizes must be claimed within 180 days after the official end of game. Persons altering tickets are subject to prosecution. You must be at least 18 years old to purchase a ticket.