$100

Top Prize

$1

Ticket

1:3.82

overall odds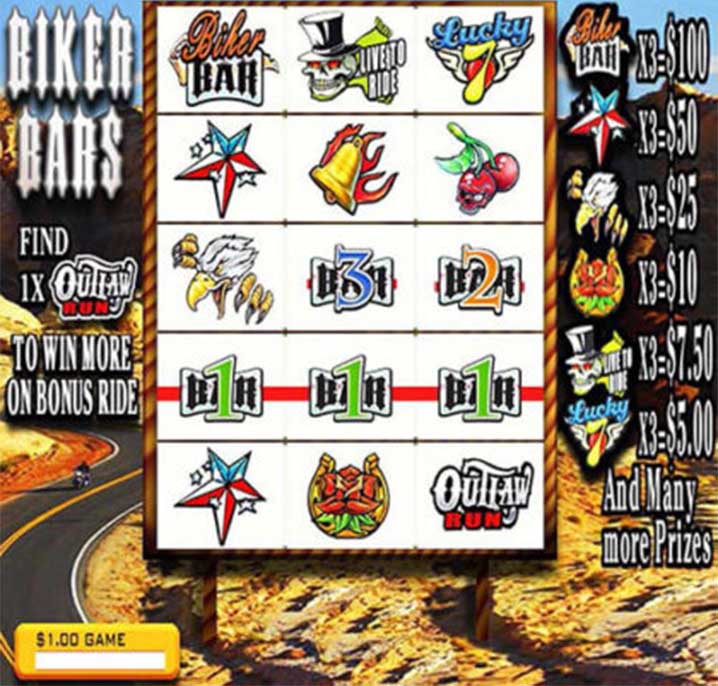 Motorcycles and road side bars, they go together like TouchTab and winning! Biker Bars celebrates the flashy bike, the legend of the open road, and the bars that made them famous. Get your motor running and head out on the highway to find a retailer where Biker Bars is played. Match 3 head mascot symbols and win the game's top prize of $100. Find the Outlaw Run symbol to enter the motorcycle ride Bonus Feature that allows you stop at up to six places to gain extra prizes. Chrome wheels, leather seats, thundering exhaust and cash await this classic ride.
All TouchTab prizes must be claimed at the location of play on the day of play. Try Biker Bars the next time you visit a TouchTab retailer.
To begin game, select price level and touch PLAY.

Touch each of the three play areas to reveal your symbols.

If you match any symbols in a row, column or diagonal you win!

If you get a bonus symbol, you go to the bonus game for a chance to win additional prizes.

When you are finished playing, tap COLLECT to print your credit voucher.

Vouchers must be redeemed at the location of play, on the day of play.