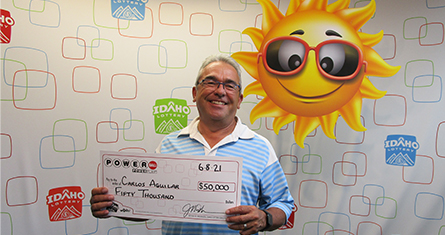 Carlos Aguilar is a devoted, regular Idaho Lottery player and he has some advice for others who participate in the most popular game in America, Powerball. Once a month, he and his wife make the drive from Harrisville, Utah to Malad, Idaho to buy Powerball tickets and play Scratch Games. As a regular player, Carlos knows the benefit of adding PowerPlay to his Powerball tickets. PowerPlay is a $1 add-on per play that multiplies non-jackpot winning prizes from two to as many as ten times the prize, depending on the number selected during the draw.
On Tuesday, June 8, Carlos found himself at the Idaho Lottery offices in Boise holding a $50,000 winning Powerball ticket. His ticket matched four of the first five numbers and the Powerball. Despite being only one number away from winning the June 5, 2021 jackpot of $286 million, Carlos was kicking himself a little because he had not included PowerPlay on his ticket.
"The one time, the one time I forget to add PowerPlay, I win big," joked Carlos when he claimed his $50,000 winning prize from a ticket he purchased at CJ's Travel Stop in Malad. "And I always get PowerPlay. Always. I was just being a little lazy and wanted to play some extra scratch tickets."
Had Carlos followed through with his regular purchase practice and added PowerPlay, spending the extra $1 meant his prize-winning ticket could have been $100,000 more. The PowerPlay multiplier for that Saturday night was 3X, meaning, his $50,000 could have become a $150,000 prize winner. But it was not meant to be.
Not one to dwell, he embraced the positives. "I still don't believe it. This is still $50,000 more than I had when I came in the store," he said. "I just retired a week ago, so, this will help me celebrate and I'll be able to set it aside, maybe even take a retirement trip. But I will never forget to add PowerPlay again!"