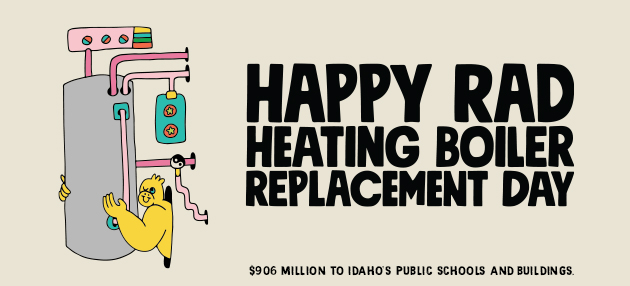 They are the heart of the school, critical for facility operation and eventual academic success. They are essential, and in the snowy, cold winter months of Idaho, vital to the school's overall well-being. Their warm welcome on a frosty morning is inviting and comforting for the students and faculty who trek, sometimes across long distances to spend their days in academic pursuits. One might think we're talking about a school's support staff or the lunch crew, or even a school's administrator. These are more important than all of them for without them, a school could not operate in the cold environs of an Idaho mountain winter.
Boilers.
Many of Idaho's school facilities have a lot of years behind them. While some of the modern facilities in the Gem State have 21st century HVAC systems to heat and cool their schools, there are plenty of Idaho public schools still operating with mid-20th century boilers to handle the job of heating a school. Maintaining the boilers is a less expensive route for districts and schools than completely replacing them. To the students, teachers, staff, and parents, they're thankful these continue to operate during Idaho's long, cold winter months.
As part of the Idaho Lottery's dividend, the monies we return to the Department of Education are then transferred to local school districts with the requirements the funds be used for maintenance and operational repairs. One of the most common pieces of school equipment fixed every year are boilers. So much so, that during the school year of 2018-2019, nineteen different districts and schools across Idaho either replaced or repaired their boilers and boiler systems.
So "Happy Rad Heating Boiler Replacement Day" to everyone. Help us celebrate and congratulate these districts and schools on their boiler improvements to make a safe learning space for the leaders of tomorrow.
American Falls Joint School District
American Heritage Charter School
Camas County School District
Cassia County Joint School District
Clark County Joint School District
Freemont County Joint District
Genesee Joint School District
Jefferson County Joint School District
Kootenai County Joint School District
Kuna Joint School District
Mackay Joint School District
Marsh Valley Joint School District
New Plymouth School District
Orofino Joint School District
Richfield School District
Salmon School District
Soda Springs Joint School District
South Lemhi School District
Teton County School District