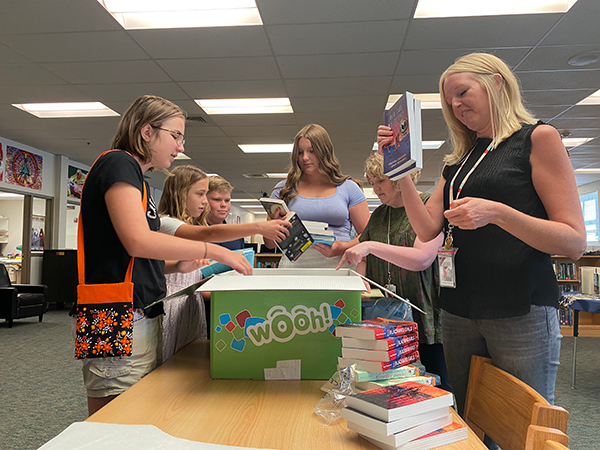 While Back to School season may be winding down, Idaho Lottery's Classroom Wishlist Program most certainly is not. With ever growing exposure, this program is really getting a chance to Do Good. This September we got to see some of the Do Good in action at Sawtooth Middle School in Meridian!

Librarian Lindsay Deverall requested 14 sets of books to help her school participate in Idaho Battle of the Books. This program commonly coined IBOB, is a statewide voluntary but competitive reading and comprehension initiative. Titles are chosen, questions are created for each reading level, and all books in the appropriate age category are read by all participating students; that's a lot of reading! These students then have the opportunity to compete as a team at a final competition! Deverall explained it as "like sports but with books!"
Deverall told us that having these books and having enough of them to be shared and read by all "creates a reason to come to the library; it brings everyone together for something fun and educational. It is beneficial in many ways, it allows students to be involved in a competitive team sport without having to be athletic, as well as be exposed to all different kinds of genres and stories they may not have ever discovered for themselves."

With the number of students already signed up for the team, those books will get some heavy use! The students will have the chance to really dig into the story and understand them in and out. The Idaho Lottery team wishes Sawtooth Middle School good luck in their upcoming Battle of the Books; we are so happy to have been a part of the work they are doing in the library to keep students reading.

The Idaho Lottery has awarded 124 teacher's wishes since the Classroom Wishlist program started in 2019.