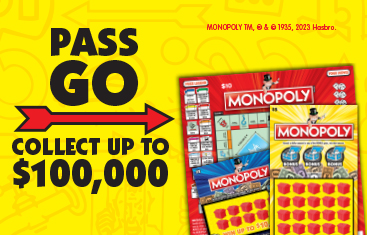 Pass "Go" and collect $200! Everyone who's played the famous board-game MONOPOLYTM knows this phrase. This May, the Idaho Lottery is living up to the phrase, and more, with the debut of the MONOPOLYTM family of Scratch Games. Players will have the chance to scratch the board game, and the iconic themes, for prizes up to $100,000!

The MONOPOLYTM family includes a $2 and $5 game, plus a $10 Super ticket. The $2 and $5 versions of the game feature plenty of "red hotels" for players to corner the market. Players scratch the red hotels and hope to reveal either the FREE PARKING SPACE or the HAT symbols. And just like in the popular version of playing at home, when a player uncovers the FREE PARKING SPACE symbol, they win the cash prize shown. The HAT symbol doubles the prize shown. Both games feature Community Chest Bonus sections with instant prize amounts.
The $2 game has a top prize of $10,000 with the $5 game boasting a top prize of $50,000.
The $10 Super Ticket edition features the traditional MONOPOLYTM game board and all the classic names players throughout the generations have loved to play – from the Reading Railroad and Electric Company to Park Place and Boardwalk. Players scratch the YOUR MOVES dice along the game board side to reveal street name spaces in the game board's play area. When players collect all the properties in one of the street name groups, they win the corresponding amount from the PRIZE LEGEND. Players can even win $25 if they collect the "Free Parking", "Go to Jail", and "In-Jail/Just Visiting" spaces! And yes, in the Super Ticket version, if a player gets a "Go" symbol, they advance to "Go" and can collect an actual $200 prize. Players might even feel like they're playing MONOPOLYTM with real buildings when they get Park Place and Boardwalk to win the game's top $100,000 prize.
Advance your "race car" or "old shoe" to a retail store near you in mid-May and start playing MONOPOLYTM!