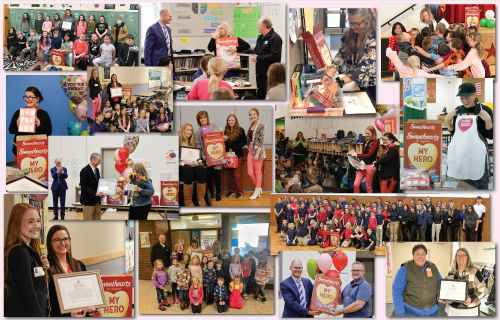 School Heroes. Every school has one, maybe even more than one. Those unique individuals who make a difference for a student, a parent, another faculty or staff member, or to someone in the community. These heroes are unique, going the extra mile day and night, to selflessly benefit others.
This winter, the Idaho Lottery recognized twenty School Heroes as part of their Sweethearts Scratch Game campaign to "Share the Love". They were teachers, social workers, principals, nurses, custodians, and front desk staff. And they came from every corner of the State: from Rexburg to Genesee, from large towns like Pocatello to small towns like Pinehurst. These twenty individuals represent the highest quality in education and those who are impacting their school and community.
They're like Patti Covell, a 5th grade teacher from Falcon Ridge Charter School in Kuna. Patti was nominated by her in-class assistant, Rachel Turben. Rachel described the incredible passion and patience Patti has in her classroom, with a heart that sings, dances, or cracks jokes to ensure her kids are having fun while learning. Often, Patti stays in the classroom during her lunch to help any students in need, "She won't allow any of her students to fall behind, no matter the reason. It's just not in her," Rachel explained. "I think the world should be full of teachers just like Patty. It truly would make the world a better place and give children a love for not only learning, but a love for life, your neighbor, and spreading kindness into the world. I know she'll be a teacher all her students will remember for many years to come.
Or like Rachel Del Valle, a social worker for the Jerome School District. She was nominated by Toni Harbaugh. According to Toni, "Rachel goes above and beyond working with students who struggle with behavioral issues. She helps teachers with interventions and writes behavior plans to keep students in school and learning. Rachel conducts threat assessments and creates safety plans. She conducts suicide assessments and aids parents in seeking outside resources. Rachel runs the Districtwide Cares Team when there is a death in the school. She makes staff and students feel safe by providing a spot for them to just talk. Rachel has dedicated her school career to helping students. There are not enough words to describe how amazing, talented, and valued she is to the Jerome School District. She is truly a hero to whoever crosses her path. Rachel has changed the lives of so many of our students."
The Idaho Lottery received over 90 nominations for this award. We would have liked to recognize all of them. But along with Patti and Rachel, these individuals were recognized:
Katie Ashby, Middle School Front Desk, Sage International School of Boise
Kim Brown, 5th Grade Teacher, Lakevue Elementary, Nampa
Jeanne Happy, Art Teacher, Genesee School District
Amanda Harris, Middle School Science Teacher, Middleton Middle School
Melissa Hunt, 1st Grade Teacher, IT Stoddard Elementary, Blackfoot
Jaqueline Johnson, 3rd Grade Teacher, Pepper Ridge Elementary, Boise
Jamie King, 3rd Grade Teacher, North Valley Academy, Gooding
Sarah Mason, Administrative Assistant, Pinehurst Elementary, Pinehurst
Ken Pahlas, Principal, Lakevue Elementary, Nampa
Vickie Renfro, 3rd Grade Teacher, Shadow Butte Elementary, Boise
Lindsey Reynolds, 4th Grade Teacher, Centennial Elementary, Lewiston
Bekkie Ritchie, 3rd Grade Teacher, Hubbard Elementary, Rexburg
Laurie Thomson, Title 1 Teacher, Midway Elementary, Menan
LaDonna Vinson, Middle School Secretary, Horseshoe Bend Middle School
Jessica Wollen, Food Service Assistant Manager, Hawthorne Middle School, Pocatello
Joni Wood, Custodian, Marsing Joint School District
Two more coming…
"The Idaho Lottery was created to benefit public schools," said Jeff Anderson, Idaho Lottery Director. "Our School Heroes program was one more way we Do Good for the schools and the people who run them every day."

Congratulations to the Idaho Lottery's school heroes for 2023!