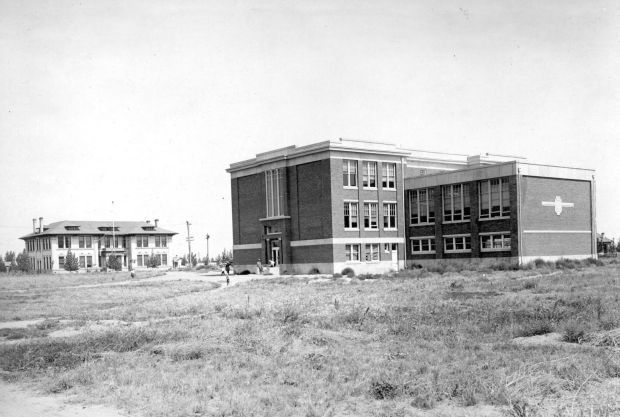 It's what makes things run and is fundamental to the operation of any school. It provides warmth during the colder months, cools us in the summer months, and provides light on dark days. The rise of its use fueled the industrial revolution of the late 19th century and transformed the world into modern times. Yet for most of us on a day-to-day basis, electricity and the light it provides is almost taken for granted – until of course it goes out.
Idaho was a territory long before electricity and indoor lighting came to our state. With the advent of hydroelectric power from the Minidoka Dam, in 1914, Rupert High School became the nation's first public all-electric high school and the "only school building in the world heated exclusively with electricity and having no other provisions for other heat." (Rupert Pioneer Record, February 1914; Magicvalley.com, January 22, 2013).
Of course, today, all of Idaho's schools are fully equipped with electricity. However, there are always occasions where upgrades and improvements are necessary. As Lottery dividend dollars are used for maintenance and operations of a school, these improvements are often funded with Lottery resources. It's just another way the Lottery is providing safe, secure, and well-lit buildings for the development of Idaho's future.
Happy Love Your Electrical Metering Upgrade Day! And so that students can keep coming to their schools, we'll be happy to keep the lights on for them. Here's a list of all the districts and schools that made repairs to their electrical capabilities (and for the record, the Minidoka School District was not one of them):
Blackfoot Charter School
Bliss Joint School District
Butte County School District
Compass Charter School
Dietrich School District
Gooding Joint School District
Homedale Joint School District
Idaho Science and Technical Charter
Kendrick Joint School District
Kootenai Bridge Academy
Kootenai School District
Meadows Valley School District
Mountain Home School District
New Plymouth Joint School District
North Idaho STEM Charter
North Valley Academy
Richard McKenna High School
Richfield School District
Ririe Joint School District
Rolling Hills Charter School
St. Maries Joint School District
Snake River School District
Taylor's Crossing Charter School
Vallivue School District
Village Charter School
Vision Charter School
Xavier Charter School