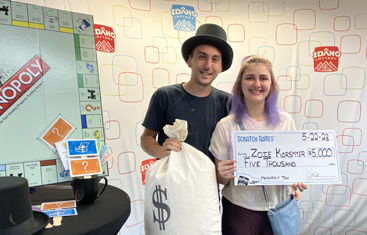 In the traditional board game of MONOPOLYTM, there is a Community Chest Card where players receive $25 for marrying a happy couple. Sometimes, life itself imitates art and board games.

On a mid-May, Monday morning, Zoie Korsmyer and her fiancée Chase arrived at the Idaho Lottery with a $5,000 winning MONOPOLYTM Super Ticket. It was a big win that almost didn't happen. But as luck would intervene, it will provide the basis for the young couple to actually get married.
"We got engaged last November, but because we don't have the finances, we were thinking we were going to have to put the wedding off," explained Zoie. "But now, with this win, we'll be able to get married in October!"
Zoie further explained how she got the winning ticket from her neighborhood store, the Jacksons/Extra Mile on Amity at the Happy Valley roundabout. "I had played two tickets and one was a $15 winner. I took it back inside to cash it and get another one. I was waiting in line and the guy behind me saw the ticket and thought it looked like fun and told me that he was going to get one, too. I was ahead of him in line, but we were separated and went to two different clerks. He asked for a ticket and so did I. But since I was in line in front of him, I got the next ticket and it won $5,000!"
Like love, some things are meant to be. Congratulations to Zoie and Chase and be sure to send us wedding photos from the ceremony!