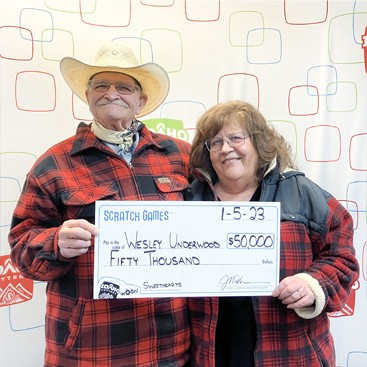 In early December, Wes and Nancy Underwood from Boise celebrated their 30th wedding anniversary. To celebrate New Year's, Nancy bought Wes a $5 Sweethearts Scratch ticket from the Idaho Lottery. Wes won $5 on that ticket and took it to the Maverik on Ustick and Cole Roads.

"I cashed in the $5 winner and I bought another Sweethearts," described Wes. "I played it, I saw the number 16 matched and then I saw it won $50,000. I smiled, I folded it up and put it in my pocket. When I got to my pick-up truck, I remembered the Lottery always says to sign your ticket, so I turned it over right there and signed it!"
Sweethearts, the beloved, heart-shaped candy brand best associated with Valentine's Day is the theme for the newest Idaho Lottery Scratch Game. For more than a century, the iconic Sweethearts brand and its conversational candies have been adored by generations with sayings centering around love and caring. So which phrase was on Wes's big winning ticket? "Date Night."
Wes went home, found his bride of three decades, and asked her on a date. "I asked her if she wanted to go to the Lottery Office with me," he said chuckling. "She asked me what for? I told her I'd won $50,000."
"I didn't believe him. I knew he'd only won five bucks on the ticket I gave him. I thought he was pulling my leg," said Nancy. "Then I saw the ticket. Luckiest guy I know. Probably because he's married to me."
Two hours after buying the ticket, the couple, who had arrived wearing matching plaid jackets, walked out of the Lottery Offices with the first top prize of $50,000 on Sweethearts.
"This is going straight to the bank," said Nancy.
"And tomorrow, I'm gonna pay cash for my new hearing aids," added Wes. "And then I'm gonna take Nancy to dinner for a date night!"
Sweethearts has one top prize of $50,000 remaining. The young couple, Wes and Nancy, have a lifetime of "Date Nights" ahead.