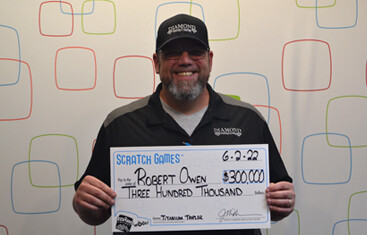 Robert Owen describes himself as a regular Lottery player. Twice every week, he makes sure to buy his Mega Millions and Powerball tickets. He does not routinely play Scratch tickets, in fact, until one Wednesday in early June, Robert had gone 20 years between buying an Idaho Lottery Scratch ticket. Twenty years.
After finishing work early that Wednesday, Robert stopped at the Jacksons store in Meridian, located at Maple Grove and Ustick, to buy his Mega Millions and Powerball tickets. "If you're going to win, you might as well win big," said the 8-year heating and cooling veteran. "The clerk said she was going off shift and needed someone to buy a few Scratch tickets. I had a $100, so I got my Powerball and Mega Millions then bought the first Scratch tickets I've bought in two decades."
One of the tickets he purchased was a $30 Titanium Tripler ticket. Not one to linger playing an extended play game, Robert scratched the bar code and scanned it.
"It started playing this music, making all these sounds and the clerk started yelling that it was the jackpot song. She was crying she was so excited. I couldn't believe it," Robert described on his winning experience. "I'm known as a prankster, so when I started telling people I won, no one was believing me."
Believe it. Robert won the game's last top prize of $300,000. He plans to wait and evaluate what he's going to do with his winnings for at least a month with one exception. "We had a trip planned to Scotland for 2020 that got canceled. I think we're going to have to re-schedule it and do it up first-class!"
Winning was definitely worth the wait for Robert.