December 31, 2009 - Boise - During his twenty years in the United States Air Force, Randal Miller of Greenleaf not only repaired military aircraft, he also helped with the cleanup efforts in the Philippines after the cataclysmic volcanic eruption of Mount Pinatubo in June 1991, later survived a military transport plane crash in Kuwait in December 1999, and was one day away from being recalled to assist in the recovery efforts after the 9/11 attacks in New York. Today, though, the soft-spoken Miller entered a new chapter of his life when he became the Idaho Lottery's 23rd millionaire by claiming the top prize in the Idaho $1,000,000 Raffle.
"This is definitely the most I've ever won." said an excited Miller.
Miller found out last night right after the 10 p.m. newscast that he was holding the winning ticket that had number 59,388. His sister, Elizabeth Fowble, wrote the top winning numbers down after seeing them on television. Along with her husband Joe Fowble, all three started checking their tickets for winners.
"I had a couple of tickets in the car that I went out to get and check," said Miller sheepishly who admitted he had signed the tickets after purchasing them. "I told them I had one ticket in the 59,000's and when I read the number Elizabeth told me it was the winner!"
Miller bought his ticket at Greenleaf Store in Greenleaf, Idaho. For their part in selling the winning ticket, Greenleaf Store will receive a bonus from the Idaho Lottery for $50,000.
Joe, who spends a lot time with Miller fishing in Hells Canyon and at CJ Strike Reservoir, says winning couldn't have happened to a better guy. "We were just kidding with him when we said to bring out the winning ticket," added Joe. "This is fantastic. I just hope he'll still go fishin' with me, now."
While Miller was claiming his $1,000,000 prize, Juan Aguilar of Boise was in the Idaho Lottery's Winners Lobby claiming one of the four $10,000 prizes. Aguilar bought his ticket at Jacksons on State Street in Eagle.
The remaining three $10,000 prizes have not been claimed.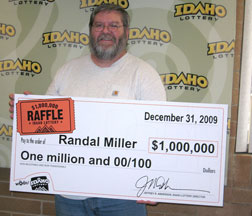 ###