January 9, 2014 - Boise - Stunned disbelief. That's how Luella Rowe felt while watching the Idaho Lottery's live $1,000,000 Raffle announcement last Thursday night from The Village in Meridian. Rowe, along with her daughter Krista Massoth, and her son-in-law's mother Gainelle Massoth, were in possession of the jackpot winning ticket from the 2013 version of the Idaho $1,000,000 Raffle. The three family members claimed their winning ticket on Thursday during a press event where the ticket was sold, the Jacksons at 101 Logan St. in Caldwell.
"I turned on the TV last week to watch the announcement and was holding my tickets in my hands when they announced the winning number," described Luella. "I didn't even look down. I knew I was holding the winner. I couldn't believe it. Still not sure I do believe it."
The three, dubbed the 'Hay-raisers', have been playing the lottery and pooling resources on big jackpots for years. The group lives and works on the family hay farm outside of Caldwell. When they got together for dinner later that night, they had a lot to celebrate.
"We called over to my mom's house to make sure she was coming to dinner. When she answered, all she said was 'I have the winning ticket.' At first I didn't believe her, but after I saw the ticket, well, I got a little excited," said Krista who confessed to whooping and hollering when she learned about their big win.
"We like to play this game because it's an Idaho-only game," added Gainelle who also watched the live announcement on television. Shortly after hearing the news, she joined the festivities. "We always said if we won big we'd split it, so that's what we're doing."
The family has many plans for their winnings including paying down a few debts and then creating college funds for the Massoth's children. They also plan to give back to the community where they've lived for years.
"We will not take winning this prize for granted," added Krista. "We look forward to using it in positive and meaningful ways."
For their part in selling the winning ticket, Jacksons receives a $20,000 bonus from the Idaho Lottery.
In addition to the $1,000,000 prize, two of the $10,000 prizes have also been claimed. Launa Walquist from Blackfoot won her prize on a ticket purchased at the Ridley's in Blackfoot and Mark Backhaus bought his winning ticket from Fast Eddy's on Ten Mile in Meridian. The $10,000 winner from Power County and the $10,000 winner from Kootenai County have not been claimed.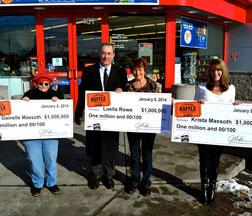 ###