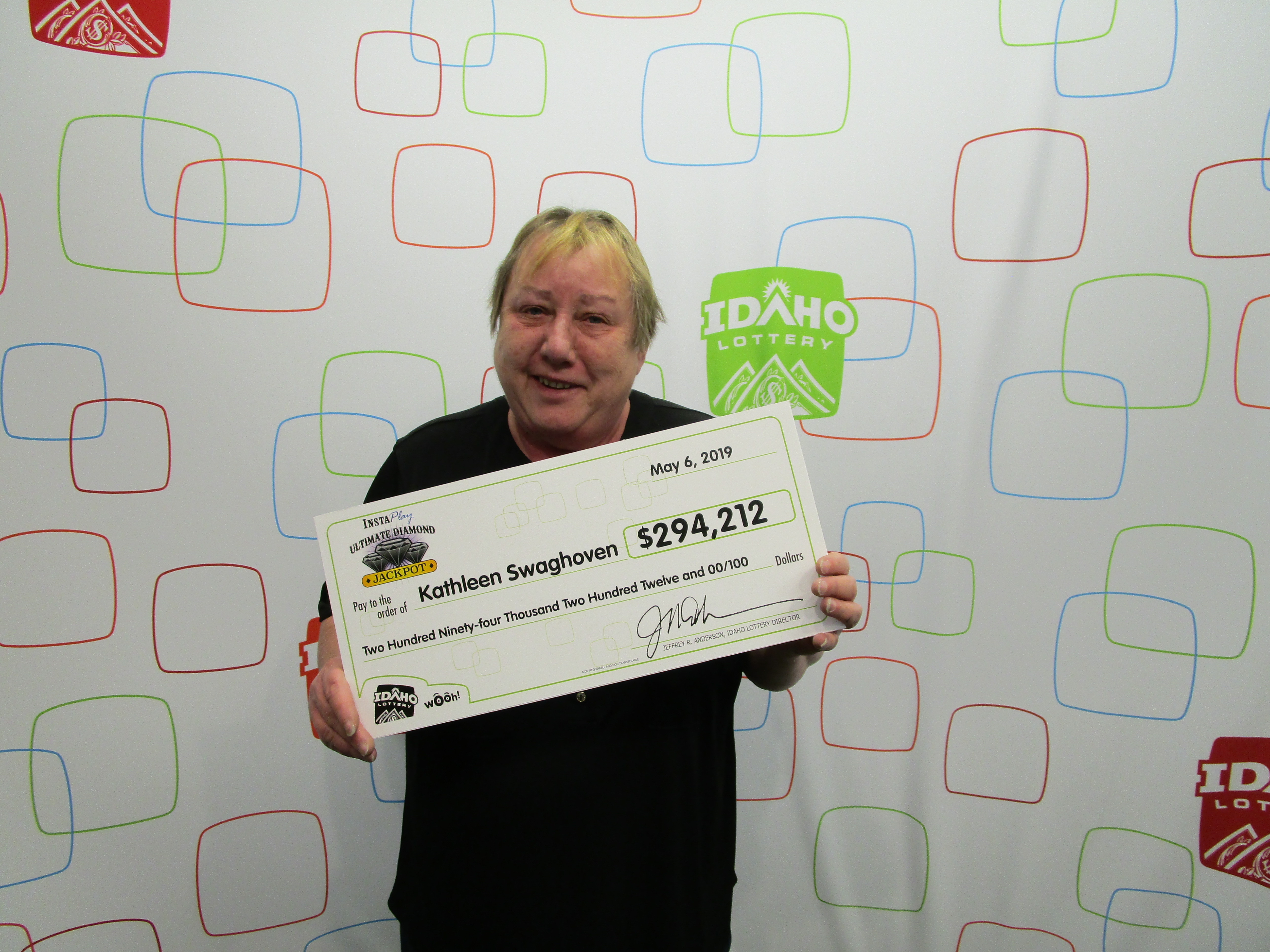 FOR IMMEDIATE RELEASE
Two Big Winners, One Big Week for Kootenai County Lottery Players

BOISE, Idaho ÔÇô Last week was a big week for Kootenai County lottery players who won two big jackpots! On Wednesday, Jayme Rose from Post Falls won $97,280 on Idaho Jackpot from a ticket she purchased from Super 1 Foods in Coeur d'Alene.
"This win could not have come at a better time," explained a grateful Rose who is expecting a child in August. "This will really help me and my family."
On Saturday afternoon, Kathleen Swaghoven from Rathdrum was looking for something to do, so she visited the Korner Jifi Stop in Rathdrum to play Ultimate Diamond Jackpot. Swaghoven said she was playing the game because the jackpot getting close to $300,000.
"I already had a $450 winner from playing earlier, so I took $40 and went to buy two more tickets," explained Swaghoven. "I saw the jackpot was $294,212 when I bought the first one. As it printed out, there was some commotion in the store and when I went to select another one, I saw the jackpot had changed to $20,000. I was mad at myself for not getting two right in a row and missing the jackpot!"
Then Swaghoven checked her ticket on the Lottery's vending machine. The message told her she needed to see the clerk. At this point, Swaghoven began to shake a little.
"I got to thinking maybe I did get the jackpot winning ticket after all," said Swaghoven. "I took the ticket to the clerk and asked for a pen and signed it before I ever had the clerk check it for me. Then we scanned it and it said I had to claim it in Boise. I really started to shake then."
Swaghoven plans to invest her winnings and help her family.
For their respective parts in selling the winning tickets, Super 1 Foods receives a bonus of $9,728 while Korner Jifi Stop receives a bonus of $20,000.
Idaho Jackpot and Ultimate Diamond Jackpot are both terminal-based Scratch games. Idaho Jackpot begins at $5,000. Ultimate Diamond Jackpot begins at $20,000. Both games' jackpots grow until they are won. Rose's win was the second largest in Idaho Jackpot history, while Swaghoven's was the third largest in Ultimate Diamond Jackpot history.
# # #
ABOUT THE IDAHO LOTTERY
The Idaho Lottery responsibly provides a variety of entertaining games featuring Powerball, Mega Millions, Scratch GamesTM, and PullTabs with a high degree of integrity to maximize the dividend for Idaho public schools and the permanent building fund. Since their inception in 1989, the Idaho Lottery has sold nearly $3.7 billion in products, awarded over $2.2 billion in prizes to players, returned $216 million in retail commissions, and distributed $846 million in Lottery dividends to Idaho public schools and the Permanent Building Fund. To learn more, please visit www.idaholottery.com.