January 3, 2012 - Boise - For six months, a group of co-workers from the Wal-mart store in Ontario, Oregon pooled their resources to save up money to play the Idaho Lottery's annual Idaho $1,000,000 Raffle. The group of five friends who have worked together for at least five years, started saving $10 a paycheck in late June 2011. Once the Idaho $1,000,000 Raffle began, the group's leader Aaron O'Neil began buying a couple of tickets each day the Raffle was offered for sale. The persistence paid off on Tuesday, January 3, 2012 when the group claimed the Raffle's top prize of $1,000,000 at Lottery headquarters in Boise.
"We all work the night shift together, so I'd stop on my way home every morning and buy a couple of tickets," said O'Neil who lives in Weiser and bought the winning ticket at the Maverik Country Store in his hometown.
Monica Draper, from Payette, was on vacation the night of the winning numbers announcement. She watched the Idaho Lottery's live announcement from the Idaho Steelheads - Las Vegas Wranglers hockey game, wrote the numbers down, and then checked all their tickets.
"Aaron had made copies of all our tickets, so I opened them up and turned right to the page that had the winner," exclaimed Draper. "Thank goodness for kitchen counters to hold me up!"
Word amongst the group spread quickly. Eddie Ynigez (pronounced "N-ee-gez") of Nyssa, Oregon had gone into work early on the night of the draw and became the last to know the group's good fortune. "They called my name over the loud speaker and told me to come to the manager's office," explained Ynigez. "I went in thinking I was going to be fired. Instead, they just said congratulations!"
Draper and Pamela Linville of Ontario, Oregon both agreed the weekend was really long while the group waited to claim their prize at Lottery offices on Tuesday. Linville has been holding down two jobs and now says with the winnings, she'll be able to leave the second one.
"It's not enough to retire on, but it is enough to make everyone more comfortable," said Linville. "I've been working two jobs for 10 years and now I won't have to."
Draper plans to invest most of her winnings, pay off a few bills, and buy herself a new car. She's been driving the same car for the past 17 years. She also plans to put the rest of her winnings toward her retirement plan.
O'Neil plans to pay off bills and do some remodeling to his residence. Ynigez is also paying off bills and then making a donation to a local charitable organization that helped his granddaughter.
The fifth member of the group was Aaron Anderson, of Ontario, Oregon who plans to pay off bills with his winnings. No one in the group is planning to leave their job at Wal-Mart.
For their part in selling the ticket, Maverik receives a $20,000 bonus from the Idaho Lottery. Chris Jensen, an Area Supervisor for Maverik was on hand during this morning's announcement at Lottery Offices to hear the good news on the winning ticket.
In addition to the $1,000,000 prize, there were four $25,000 winning tickets. All four of these prizes have been claimed. The first was claimed by Brenda Foulger of Huntsville, Utah who bought her ticket at La Tienda in Franklin along the Idaho-Utah border. The second was claimed by David Kennison of Boise from a ticket purchased at KJ's on Fairview. The third was claimed by L. Dawson from Wild Willy's in Emmett. The final $25,000 winning ticket was purchased at Jacksons on Cole in Boise by Cynthia Christian.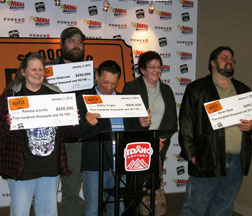 ###