January 4, 2011 - Boise - A couple of days prior to buying an Idaho $1,000,000 Raffle ticket, Hilda Floyd thought she had a $25,000 winning lottery scratch ticket. She received the ticket from a friend, scratched it, saw she won $25,000 and quickly signed the back of her ticket and was taking her friend to dinner before realizing she'd been given one of those phony, joke tickets./p>
"I was excited, I was whooping and hollering until I realized the whole thing was just a joke," described Floyd stoically on the 'pretend' winning experience she'd had earlier in December. "When I found out I won the raffle, well, I was much more cautious about my excitement."
At the prompting of a different friend, Floyd bought her winning ticket from the Maverik Country Store on Karcher Road in Nampa on December 21st during one of the biggest rushes for Idaho $1,000,000 Raffle tickets. December 21st was the day the Idaho Lottery offered their free Mega Millions ticket with a Raffle ticket purchase special. At the time she bought her winner, Idaho $1,000,000 Raffle tickets were selling at a rate of about 2,100 tickets per hour. That day alone, the Idaho Lottery sold more than 13,100 Idaho $1,000,000 Raffle tickets, the third largest day for ticket sales in the entire run.
The friend who encouraged her to buy her Raffle ticket called Floyd during the evening on December 29th to check the ticket to see if it was a winner.
"I read my number off and she told me I'd won," said Floyd. "After what had happened before, I simply did not believe it. Then I saw the number on the 10 o'clock news and again the next morning in the paper. So maybe I did win."
Even after calling her accountant to work out the details of her win, Floyd remained calm and not too excited to claim her big prize. That is until she started describing her plans for her windfall.
"I have it all planned out. I am going to take care of few things for me then I'm going to take care of my family and my church," explained Floyd who becomes the Idaho Lottery's 25th millionaire. "Giving it away excites me more than anything else."
And that is no joke.
The Maverik Country Store on Karcher Road in Nampa where Floyd bought her winning ticket is no stranger to big winning tickets. In fact, it is quickly gaining a reputation as being one of the luckiest stores in Idaho. In February 2008 the store sold a $200,000 winning Powerball ticket and then five weeks later sold a Powerball ticket worth $600,000. For their part in selling the winning ticket, Maverik will receive a bonus from the Idaho Lottery of $20,000.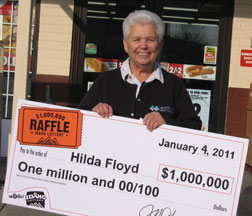 ###