January 8, 2008 - Boise - Veterans Day will have a new meaning for Bob Chester, a retired United States Marine, who bought his $1,000,000 winning raffle ticket very early in the morning on Veterans Day on November 11, 2007 just minutes after sales for the Idaho $1,000,000 Raffle had started.
At the time, Chester, who was wearing a Lottery sweatshirt his wife had won when he visited the Lottery Offices, just knew he wanted a couple of raffle tickets. "I bought some tickets and then probably went fishing," laughed Chester, the 79-year-old retiree from Boise, of the night he bought his first few tickets.
Chester discovered he was the big winner right about midnight on New Year's Eve. "He had been bugging me to check the winning numbers all day," explained his wife Leta. "I had been busy with work and just didn't do it. He eventually went and checked it himself on the internet."
"I woke her up and said 'Happy New Year', I think we have a problem," said Chester with a wry chuckle. "She didn't believe me."
"I just wanted to make sure he wasn't getting senile," joked Leta, with a big smile.
Chester then sent a Happy New Year's Day card to his family members that said they had one million reasons to watch the news. He had not disclosed yet he was the big winner.
Chester served two tours of duty in the US Marine Corps, the first during the end of World War II and the second during the Korean War. He told the history behind Veterans Day and how it related to his winning ticket.
Armistice Day, 11/11/1918 was when the fighting ended in the War to end all Wars, World War I. Veterans Day came after World War II to honor all Veterans. November 11 has been recognized as a national holiday since 1938. Coincidentally, the time stamp on Chester's winning ticket was 11/11/07 at 00:11 AM - military time for 12:11 AM.
After taxes, Chester will take home a check for $672,000. His wife now says they'll have enough money so she can sell her business and join her husband of 14 years in retirement.
The Lottery also presented Jacksons Food Stores at the corner of Five Mile and Fairview with a bonus check worth $50,000. This is the second big win for this Jacksons store in last 8 months. Back on April 2, 2007, Beverly Owens claimed a $200,000 winning Powerball ticket from the same store.
"Since announcing the winning numbers on Monday, Lottery offices have been flooded with thousands of phone calls from players wanting to check their tickets," announced Jeff Anderson, Idaho Lottery Director. "Players can check out idahoraffle.com or visit their retailer to verify their winning tickets."
In addition to the phone calls for winning numbers, the Lottery has also been asked how the winning numbers were chosen. The Idaho Lottery used their random number generator in a secured facility in Boise.
In addition to Chester claiming his prize, Meridian resident Lisa Phillips, a Boise School Bus Driver and owner of a small trucking company claimed the first of the four $25,000 prizes from the Lottery this morning. "I told the gals at the store to stop messin' with me when they told me I'd won $25,000. I was so excited I grabbed some gal and hugged her!" exclaimed Phillips.
Also, Janice Odle of Boise claimed the second $25,000 prize. "I was stunned when I saw my ticket matched the winning numbers posted on the internet," said Odle.
Two top prizes of $25,000 have yet to be claimed. All players have 180 days to claim their winnings.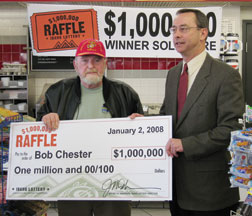 ###