$100,000

Top Prize

$10

Ticket

1:3.44

overall odds

98.91%

sold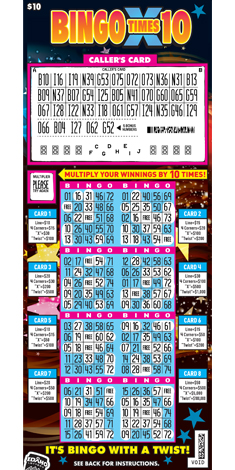 The stars will align and all will be right with the universe when you win $100,000 playing Bingo Times 10. This game is out of this world with all the regular features of a $10 bingo game, plus five bonus numbers, a chance to multiply your prize up to ten times, eight game puzzles and comes loaded with $100, $200, and $1000 prizes. It's Bingo with a twist. And in this case, the "Twist" is literal!
In the game, players scratch the caller's card and bonus numbers and match them each time they appear in any of the eight game puzzles. Each game puzzle is played separately. If you get a line, 4 corners, an "X" or a "Twist", you win the prize shown for that puzzle. You can only win the highest prize in any puzzle and you can only win once per puzzle. Bingo was never this fun. It's a Bingo lover's dream!
So what's the twist? It's a zig zag pattern than crosses the entire puzzle, indicated by a pink, visible line that displays once all the numbers in the pattern in that puzzle are revealed. Check the back of the ticket for specific details on the exact pattern. But if you get the twist, you're going to be winning big! A twist wins $100, $200, $500, $1,000, or the game's top prize of $100,000!
Give Bingo 10 Times a try when you visit your favorite retail location. You could win up to $100,000. Now that's bingo with a twist!
Number of Prizes
Prize Amount
Remaining Prizes
Odds
2
$100,000
1
202180
2
$5,000
0
202180
16
$1,000
0
25273
302
$500
17
1339
656
$200
34
616
3276
$100
162
123
11320
$50
454
36
9947
$30
561
41
14704
$20
not available*
28
22094
$15
not available*
18
55083
$10
not available*
7
*Real time data on prizes below $25 are not available.
All tickets, transactions, and winners are subject to Lottery Rules and State Law. Prizes must be claimed within 180 days after the official end of game. Persons altering tickets are subject to prosecution. You must be at least 18 years old to purchase a ticket.