$1,000

Top Prize

$1

Ticket

1:2.37

overall odds

90.23%

sold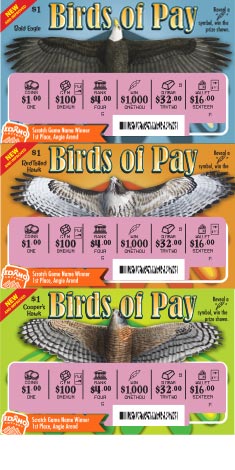 Swooping into retail stores with a $1,000 top prize is last year's Name That Scratch Game contest winner, Birds of Pay. The clever name for this Idaho-themed game name is a play on words and was provided by Angie Arend, referencing Idaho's famous Morley Nelson Birds of Prey National Conservation Area, home to one of the densest populations of nesting raptors in the world.
The game itself brings to life four raptors that are native to Idaho including the Bald Eagle, the Red Tailed Hawk, the Cooper's Hawk, and the Peregrine Falcon. Soaring with winning prizes, playing Birds of Pay is easy. Players scratch the dollar signs to reveal symbols. If you reveal a 'FEATHER' symbol, you win the prize shown.
All non-winning, $1 Birds of Pay Scratch tickets will be eligible for entry into a once a week drawing to win $100. Players may enter at vip.idaholottery.com or by tele-entry at 208-334-4656.
Thank you, Angie Arend for providing the game name that is inspiring additional awareness to the role Idaho's birds of prey bring to our natural ecosystem. In the meantime, take flight today to an Idaho Lottery retail location and play Birds of Pay, the Idaho-themed Scratch Game with a top prize of $1,000!
Number of Prizes
Prize Amount
Remaining Prizes
Odds
2
$1,000
0
429000
40
$100
7
21450
724
$32
118
1185
4284
$16
not available*
200
5720
$8
not available*
150
10726
$4
not available*
80
56564
$2
not available*
15
284504
$1
not available*
3
*Prizes are updated once daily. Prizes below $25 are not available.
All tickets, transactions, and winners are subject to Lottery Rules and State Law. Prizes must be claimed within 180 days after the official end of game. Persons altering tickets are subject to prosecution. You must be at least 18 years old to purchase a ticket.