$10,000

Top Prize

$2

Ticket

1:2.86

overall odds

80.21%

sold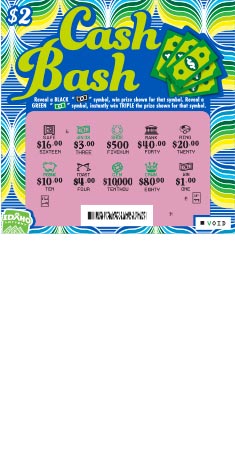 It's a $10,000 party in a ticket! Seriously, Cash Back is a fun-filled game packed with everything you need to throw the best party ever. Guitars for music, party horns, disco balls and couples dancing are all on this ticket, all celebrating when you win the game's top prize of $10,000.
To play the game, players scratch the party icons. If you reveal a "BLACK DOLLAR BILL" symbol, you win the prize for that symbol. If you reveal a "GREEN DOLLAR BILL" symbol, you win triple the prize shown for that symbol.
Get your party started today and play Cash Bash for your chance to celebrate big with $10,000!
Number of Prizes
Prize Amount
Remaining Prizes
Odds
2
$10,000
0
246450
4
$500
1
123225
282
$80
54
1748
867
$40
189
569
3702
$16
not available*
133
9845
$10
not available*
50
19688
$5
not available*
25
138105
$2
not available*
4
*Real time data on prizes below $25 are not available.
All tickets, transactions, and winners are subject to Lottery Rules and State Law. Prizes must be claimed within 180 days after the official end of game. Persons altering tickets are subject to prosecution. You must be at least 18 years old to purchase a ticket.