$100,000

Top Prize

$10

Ticket

1:4.00

overall odds

96.94%

sold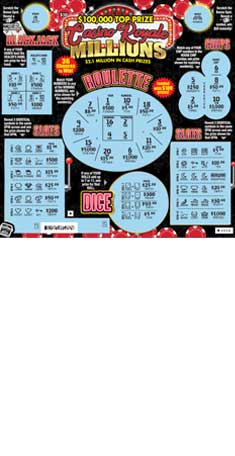 Winning. Lots of winning. $100,000 of it. Besides the intrigue, the mystique, the mystery, and the playing, winning is what a player can experience when they try their hand at Casino Royale, the latest Super Ticket from the Idaho Lottery.
It's the full experience without having to travel to Vegas. This game features classics like blackjack, roulette, dice, and slots. Not to mention a few places to just win by sheer luck. There are 36 chances to win on every single ticket, all the way up to the game's top prize of $100,000!
Starting out, there are two FAST $50 SPOTS on the game. Find a stack of money in either spot and you win $50 instantly.
Playing the ticket counterclockwise from left to right. Players start out with BLACKJACK, where each player gets four hands to be beat the dealer's hand. If any of your hands beats the dealer, you win the prize for that hand.
Moving down, you get six SLOTS spins. If you reveal three identical symbols in the same spin across, you win the prize shown for that spin.
Taking a break, try your luck with the DICE. Each ticket gets four rolls. If any of your rolls adds up to 7 or 11, you win the prize for that roll.
Back to the SLOTS, for spins 7 through 12. Same as before, if you reveal three identical symbols in the same spin across, you win the prize shown for that spin.
Then it's on to the CHIPS. Match any of YOUR CHIP NUMBERS to the HOUSE CHIP and win the prize for that chip.
The final game of the night is ROULETTE. The WINNING NUMBERS are hidden under the center of Roulette wheel. Match any of the WINNING NUMBERS to YOUR NUMBERS under the wheel itself and you win the prize shown for that number.
The game comes loaded with $100 prizes, not to mention the glitz, glam, and reminiscences of neon. It's Casino Royale Millions, your super ticket to winning $100,000!
Number of Prizes
Prize Amount
Remaining Prizes
Odds
2
$100,000
0
151718
3
$5,000
1
101145
4
$1,000
0
75859
143
$500
5
2122
915
$200
40
332
4042
$100
158
75
10156
$50
448
30
11034
$25
490
28
49653
$10
not available*
6
*Real time data on prizes below $25 are not available.
All tickets, transactions, and winners are subject to Lottery Rules and State Law. Prizes must be claimed within 180 days after the official end of game. Persons altering tickets are subject to prosecution. You must be at least 18 years old to purchase a ticket.