$300,000

Top Prize

$30

Ticket

1:3.14

overall odds

97.36%

sold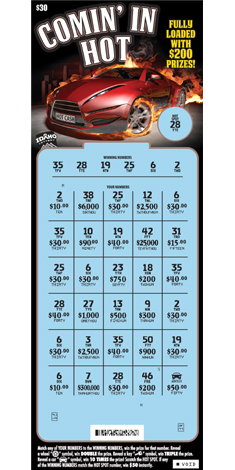 Screeching tires, burning rubber, and a whole lot of smoking hot cash are on hand when you play Comin' in Hot! This game is so hot, it's on fire – nearly literally. This game gives new meaning to the term "hot rod" as it comes fully loaded with $200 prizes and flames ripping off the tires and the chassis. Plus, you can blaze your way to the game's $300,000 sizzlin' top prize!
This game is not available at car dealerships, but it is available at all Idaho Lottery retail locations. When playing the game, players who match any of YOUR NUMBERS under the burning dollar signs to any of the WINNING NUMBERS under the RMP meter, you win the prize shown for that number. If you reveal a "wheel" symbol, you win double the prize. If you reveal a "key" symbol you win triple your prize. If you reveal a "car" symbol, you win ten times the prize instantly. Okay, so you don't win the car, but with the winnings, you might be able to buy one! And if that isn't enough, there's burning hot spot. If any of the WINNING NUMBERS matches the HOT SPOT number, you win $50 instantly!
So redline your RPM meter, spin those tires, burn some rubber and peel out in this high octane, engine revving, cash winning, exciting game with a top prize of $300,000! It's Comin' in Hot from the Idaho Lottery. Just remember you to follow the traffic laws on your way to the store to buy one.
Number of Prizes
Prize Amount
Remaining Prizes
Odds
2
$300,000
0
154275
3
$25,000
0
102850
6
$2,500
1
51425
42
$1,000
5
7346
10115
$200
405
31
13369
$100
569
23
29840
$50
1579
10
44880
$30
2016
7
*Real time data on prizes below $25 are not available.
All tickets, transactions, and winners are subject to Lottery Rules and State Law. Prizes must be claimed within 180 days after the official end of game. Persons altering tickets are subject to prosecution. You must be at least 18 years old to purchase a ticket.