$50,000

Top Prize

$5

Ticket

1:3.73

overall odds

91.71%

sold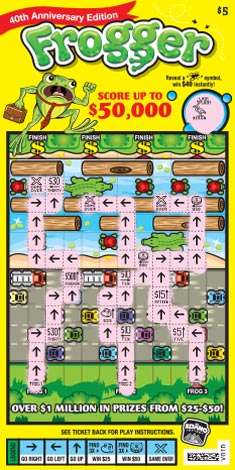 Leaping back into stores this spring is one of the most popular Scratch GamesTM ever offered by the Idaho Lottery. Frogger will be leaping from the lily pads, across the roads, through the parking lots and into tickets dispensers starting in mid-February.
Just like its predecessors, the Lottery version of the popular 1980's arcade game plays true to the timeless arcade version, only without the joystick, arcade music, and sound effects. Of course, the trade-off is a game filled with prizes from $5 to the top prize of $50,000. The game also offers over $1 million in prizes from $25 to $50!
To play Frogger the Scratch Game, players receive three frogs on each ticket, each hoping to dart across a busy, traffic filled street, navigate a treacherous river filled with turtles and logs, and hop into the finish play area before meeting an untimely peril. Players that successfully get their frogs safely to the finish win that prize. Prizes can also be won during the frog's journey to the finish area. If a player uncovers three identical symbols along all three paths, either a frog or coin symbol, players win that prize. If a player uncovers three identical symbols along all three paths, players win that prize amount.
All non-winning tickets may be entered for a second chance to win a weekly prize of $100! But true video gamers will have their opportunity to show their skill and win weekly prizes by playing Frogger online. That's right, the Scratch Game will offer a free interactive website game with age-controlled parameters and a Leaderboard. The Leaderboard will be used once every week the Scratch Game is on sale to determine a weekly winner. Participants play Frogger, a game of skill, through the Lottery's website and the top-ranking player on the leader board each Wednesday wins a Frogger prize pack that includes a Frogger umbrella and Frogger scratch tickets. Prize pack value is approximately $50.
To get to the online game, scan the QR Code on the back of the Scratch Game ticket to download the free interactive Frogger game to a smartphone or tablet.
Frogger the Scratch Game leaps back into stores in mid-February with all the fun and excitement of the classic arcade game, just be sure to use a lucky scratcher instead of a joystick to try and win cash prizes!
Number of Prizes
Prize Amount
Remaining Prizes
Odds
2
$50,000
0
353438
3
$1,000
0
235625
5
$500
0
141375
266
$100
20
2657
2744
$50
237
258
3235
$40
432
219
4144
$30
326
171
32992
$25
3719
21
14172
$15
not available*
50
37637
$10
not available*
19
94250
$5
not available*
8
*Data on prizes below $25 are not available. Prizes updated nightly.
All tickets, transactions, and winners are subject to Lottery Rules and State Law. Prizes must be claimed within 180 days after the official end of game. Persons altering tickets are subject to prosecution. You must be at least 18 years old to purchase a ticket.