$25,000

Top Prize

$3

Ticket

1:3.45

overall odds

94.35%

sold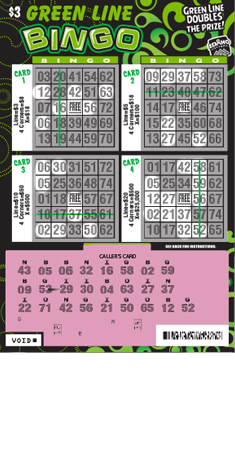 Who knew that Bingo could be totally psychedelic and harmonious, and completely green with money all at the same time? Green Line Bingo is your bingo ticket to winning big green – as in money, moola, cash, winnings, prizes, all the way up to a groovy top prize of $25,000!
Green Line Bingo plays like a traditional, $3 Idaho Lottery Bingo game. Players scratch the CALLER'S CARD under the dollar signs and green dots to reveal twenty-five BINGO numbers. Players then Scratch the corresponding numbers on each of the four play CARDS. Each card is played separately. If on any one of the CARDS (1, 2, 3, or 4) you match all the numbers in one complete horizontal, vertical, or diagonal line; or four corners; or an 'X', you win the prize in the prize legend corresponding to that card. Each card can only win once and pays the highest prize won. And you can win on each card. FREE equals a Free Space. Any lines completed with a "green line" through them doubles your prize.
It's the grooviest winning experience around. Play Green Line Bingo for your chance to win big green, up to $25,000!
Number of Prizes
Prize Amount
Remaining Prizes
Odds
2
$25,000
0
383600
8
$500
1
95900
103
$106
5
7449
516
$50
78
1487
$100
19
773
$40
96
993
2066
$36
159
371
3834
$20
not available*
200
15344
$18
not available*
50
15329
$10
not available*
50
30723
$8
not available*
25
15344
$6
not available*
50
23019
$5
not available*
33
115045
$3
not available*
7
*Real time data on prizes below $25 are not available.
All tickets, transactions, and winners are subject to Lottery Rules and State Law. Prizes must be claimed within 180 days after the official end of game. Persons altering tickets are subject to prosecution. You must be at least 18 years old to purchase a ticket.