$100

Top Prize

$10

Ticket

1:9

overall odds

99.06%

sold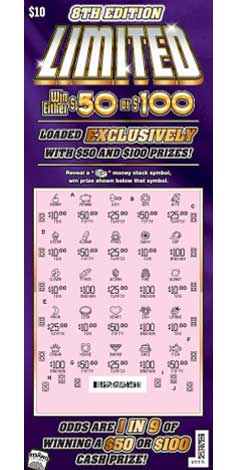 The 8th Edition of LIMITED exclusively returns with more than 2.7 million in prizes and is loaded with two prizes - $50 and $100. With only two prizes available in this game, winning is an exclusive matter. Players receive 25 chances to win on every single ticket. Players who reveal a stack of money symbol win the prize shown: either $50 or $100.
Try Limited Edition 8th Edition the next time you visit a retail location. With these types of prizes, this game may just live up to its name sake.
Number of Prizes
Prize Amount
Remaining Prizes
Odds
10422
$100
169
39
37080
$50
603
11
*Prizes are updated once daily. Prizes below $25 are not available.
All tickets, transactions, and winners are subject to Lottery Rules and State Law. Prizes must be claimed within 180 days after the official end of game. Persons altering tickets are subject to prosecution. You must be at least 18 years old to purchase a ticket.