$200,000

Top Prize

$20

Ticket

1:3.65

overall odds

88.35%

sold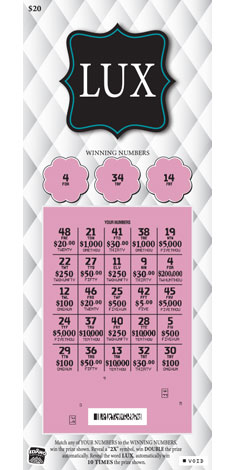 It's sleek elegance, sophisticated and determined, yet hinting at devil-may-care. It's Lux, the $20 Scratch Game with a $200,000 top prize. But does Lux stand for luxurious? Or deluxe? Either way, there's simplicity in its extravagance. Straightforward and delightful, all put together with a bountiful amount of winning experiences, up to the game's top two prizes of $200,000.
To partake of this refined experience, players match WINNING NUMBERS hidden under the spiro-graphs to YOUR NUMBERS just below. There are twenty-five chances to win on every ticket. If you match any of the WINNING NUMBERS to YOUR NUMBERS, you win the prize shown. If you reveal a "2X" symbol, you win two times the prize shown. If you reveal a "LUX" symbol, you win ten times the prize shown automatically!
With a lustrous top prize of $200,000, this game will relish in winning. Try Lux at your favorite Idaho Lottery retail location this fall. You could become Idaho's newest, extravagant big winner!
Number of Prizes
Prize Amount
Remaining Prizes
Odds
2
$200,000
0
168493
3
$10,000
2
112328
6
$5,000
1
56164
12
$1,000
1
28082
272
$500
44
1239
4880
$250
571
69
8600
$100
1034
39
12254
$50
1510
28
23297
$30
2877
14
42889
$20
not available*
8
*Real time data on prizes below $25 are not available.
All tickets, transactions, and winners are subject to Lottery Rules and State Law. Prizes must be claimed within 180 days after the official end of game. Persons altering tickets are subject to prosecution. You must be at least 18 years old to purchase a ticket.