$10,000

Top Prize

$2

Ticket

1:2.98

overall odds

97.66%

sold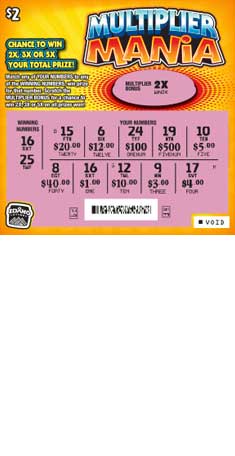 It's the big yellow sunburst ticket with the big Multiplier Bonus button that comes with ten chances to win up to the game's top prize of $10,000! Like a classic game show almost from the 1970s, Multiplier Mania is your psychedelic chance win prizes, then multiply them up to five times!
In the game, players match any of YOUR NUMBERS under the ten groovy dollar signs to either of the WINNING NUMBERS hidden under the stacks of dollar bills. If you make a match, you win the prize shown. Now, for the really exciting part: Scratch the multiplier bonus button for a chance to two times, three times, or five times the prizes won on the whole ticket!
This exciting $2 game keeps the fun happening, even after you know you have a winner. Be the next $10,000 winner and try Multiplier Mania today!
Number of Prizes
Prize Amount
Remaining Prizes
Odds
2
$10,000
0
244700
4
$500
0
122350
166
$100
7
2948
1156
$40
66
423
4894
$20
not available*
100
6121
$12
not available*
80
9794
$5
not available*
50
19556
$3
not available*
25
122344
$2
not available*
4
*Real time data on prizes below $25 are not available.
All tickets, transactions, and winners are subject to Lottery Rules and State Law. Prizes must be claimed within 180 days after the official end of game. Persons altering tickets are subject to prosecution. You must be at least 18 years old to purchase a ticket.