$100,000

Top Prize

$10

Ticket

1:3.39

overall odds

92.34%

sold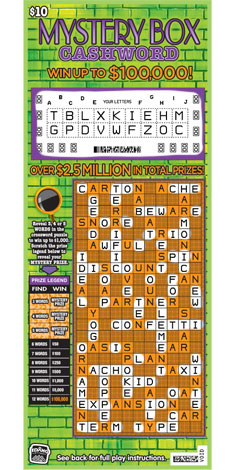 Could $100,000 be hiding under the clues on Mystery Box Cashword? Put on your Sherlock Holmes' deerstalker hat, grab a magnifying glass, and set out to unravel the conundrum behind of the Mystery Box Cashword. This could be the most fun sleuth game of all time!
In the game, players scratch 18 of YOUR LETTERS hidden under the fingerprints. Players then match each letter to every occurrence of that letter in the puzzle. If you uncover at least three complete words in the puzzle, you win. For extra sleuthing skills, players who uncover three, four, or five complete words scratch the corresponding Mystery Prize spot in the prize legend. You could win up to $1,000 instantly! If you uncover 12 words in the puzzle, you win the game's top prize of $100,000!
Great detective work was never so grand! Play Mystery Box Cashword for your chance to win up to $100,000. The more words you unravel from the mystery and uncover, the more prize earnings you win! Start solving the Mystery Box Cashword puzzle today!
Number of Prizes
Prize Amount
Remaining Prizes
Odds
2
$100,000
0
193710
3
$5,000
0
129140
4
$1,000
0
96855
205
$500
10
1890
846
$250
54
458
3434
$100
248
113
7596
$50
548
51
7051
$30
603
55
31712
$20
not available*
12
63368
$10
not available*
6
All tickets, transactions, and winners are subject to Lottery Rules and State Law. Prizes must be claimed within 180 days after the official end of game. Persons altering tickets are subject to prosecution. You must be at least 18 years old to purchase a ticket.