$500

Top Prize

$1

Ticket

1:2.56

overall odds

89.03%

sold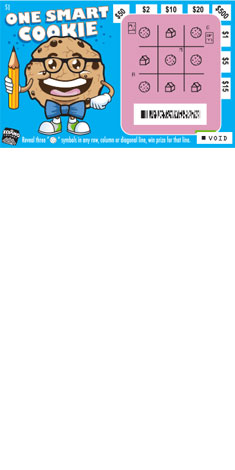 You do not have to be a straight A student to play and win One Smart Cookie, but you will feel like one if you happen to win one of the game's $500 top prizes! The ticket with the smart looking Chocolate Chip Cookie who's sporting a fresh bow tie is a game for the general public but also designed specifically for the Lottery's Scratch for Schools program. Scratch for Schools is celebrating its 20th year. Over two decades, this program has contributed over $1.3 million for classroom needs – like audio reading equipment, playground improvements, and books.
And while you can't win that much playing the game, you can win up to $500 on every ticket. The game is a simple tic-tac-toe format. Just reveal three "COOKIE" symbols under the dollar signs and No. 2 pencils in any row, column, or diagonal line and you win the prize for that line! It's that straight forward.
Are you One Smart Cookie? You might be when you claim the game's top prize of $500!
Number of Prizes
Prize Amount
Remaining Prizes
Odds
2
$500
0
430050
605
$50
140
1422
1437
$20
not available*
599
1429
$15
not available*
602
2153
$10
not available*
399
23645
$5
not available*
15
57349
$2
not available*
15
248703
$1
not available*
3
*Real time data on prizes below $25 are not available.
All tickets, transactions, and winners are subject to Lottery Rules and State Law. Prizes must be claimed within 180 days after the official end of game. Persons altering tickets are subject to prosecution. You must be at least 18 years old to purchase a ticket.