$200,000

Top Prize

$20

Ticket

1:3.67

overall odds

93.64%

sold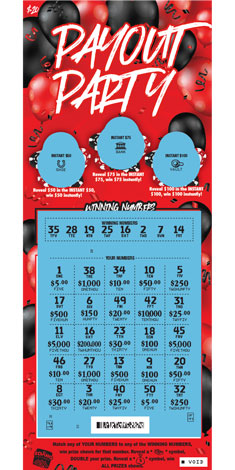 It's not just any party with balloons and streamers, it's a Payout Party where you could win $50, $75, or $100 instantly, or, you could become Idaho's newest big winner by claiming the game's top prize of $200,000! Strike up the music and let the balloons and streamers drop, and pick-up a Payout Party ticket the next time you visit your favorite retailer.
In the game, players start by scratching the $50, $75, and $100 chips at the top of the ticket. If you reveal $50 in the Instant 50 spot, a $75 in the Instant 75 spot, or $100 in the Instant 100 spot, you win that prize instantly!
For the main portion of the game, players identify their WINNING NUMBERS by scratching the eight aces to reveal them. These numbers are then matched to YOUR NUMBERS under the 25 black and red chips. If your numbers match, then you win the prize for that number. If you reveal a "stack of money" symbol, you win double your prize. If you reveal a "money bag symbol" you win all the prizes on the ticket.
With 28 ways to win, red and black balloons and streamers, you're sure to have a party playing this game. And when you win the game's top prize of $200,000? That'll definitely be a payout party!
Number of Prizes
Prize Amount
Remaining Prizes
Odds
2
$200,000
0
167778
3
$10,000
1
111852
6
$5,000
0
55926
12
$1,000
1
27963
559
$500
44
600
4311
$250
302
78
8523
$100
570
39
12237
$50
880
27
23193
$30
1747
14
42707
$20
not available*
8
*Real time data on prizes below $25 are not available.
All tickets, transactions, and winners are subject to Lottery Rules and State Law. Prizes must be claimed within 180 days after the official end of game. Persons altering tickets are subject to prosecution. You must be at least 18 years old to purchase a ticket.