$200,000

Top Prize

$20

Ticket

1:3.08

overall odds

97.85%

sold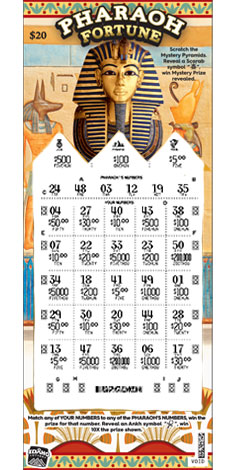 The Egyptian pyramids of Giza are as old as time itself. Older than antiquity, and on the precipice of civilization. Their inner workings, their tombs are endless subjects of mystery, legend, and wealth. From the sands of time comes a legendary game, Pharaoh Fortune, a new $20 Scratch Game from the Idaho Lottery laden with treasure to discover, up to $200,000.
Evoking the mysterious ancient past, Pharaoh Fortune comes complete with everything you would need to either pass an archaeology class in Egyptology or amass a treasure fit for a king. The game evokes a sense of the Egyptian past, with an Anubis watching over the mask of the Pharaoh. When playing the game, players have 28 ways to win. There are three mystery pyramids. Players scratch the mystery pyramids, if you reveal a "Scarab" – the ancient Egyptian symbol of immortality, you win the mystery prize for that pyramid.
When you delve deeper under the pyramids, players match the Pharaoh's Numbers to Your Numbers, hidden under the ancient hieroglyphs. If you match the number, you win the prize for that number. If you reveal an Ankh symbol, the ancient Egyptian symbol of life, you win ten times the prize shown.
Delve deep into the past mysteries of civilization, seek out the treasures hidden in the sands for eternity, and play Pharaoh's Fortune for your chance to discover the games ultimate prize, $200,000.
Number of Prizes
Prize Amount
Remaining Prizes
Odds
2
$200,000
0
203088
4
$5,000
0
101544
24
$1,000
1
16924
621
$500
20
654
4212
$200
125
96
12757
$100
422
32
18135
$50
566
22
14769
$30
522
28
81235
$20
not available*
5
*Real time data on prizes below $25 are not available.
All tickets, transactions, and winners are subject to Lottery Rules and State Law. Prizes must be claimed within 180 days after the official end of game. Persons altering tickets are subject to prosecution. You must be at least 18 years old to purchase a ticket.