$10,000

Top Prize

$2

Ticket

1:2.98

overall odds

87.13%

sold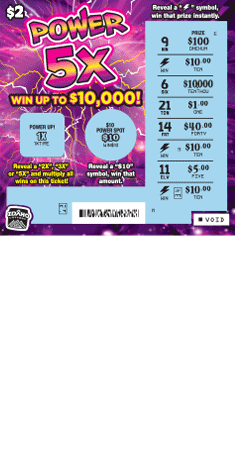 Power up, Idaho! This supercharged ticket is part of the Power Family of games, loaded with prizes and is easy to play.
In the game, scratch the dollar symbols. If you reveal a lightning bolt symbol, you win the prize shown for that symbol. Then, you scratch the Power Up box to multiply your winnings.
The purple edition in the Power family has an instant $10 Power Spot in the game. If you scratch the spot and reveal a $10 symbol, you win that amount instantly, plus any other prizes. Now, the really fun part, once you scratch the Power Up symbol to reveal a 2x, 3x, or 5x symbol, you use that number to multiply your winnings from all of the eight prize spots on the entire ticket. Plus, you can win up to $10,000!
Flip the switch and turn on this game! It's Power 5x, where you can win up to $10,000! That's some serious voltage!
Number of Prizes
Prize Amount
Remaining Prizes
Odds
2
$10,000
0
230800
4
$500
1
115400
157
$100
18
2940
996
$40
123
463
4609
$20
not available*
100
5778
$12
not available*
80
9233
$5
not available*
50
18487
$3
not available*
25
115385
$2
not available*
4
*Prizes are updated once daily. Prizes below $25 are not available.
All tickets, transactions, and winners are subject to Lottery Rules and State Law. Prizes must be claimed within 180 days after the official end of game. Persons altering tickets are subject to prosecution. You must be at least 18 years old to purchase a ticket.