$50,000

Top Prize

$5

Ticket

1:3.50

overall odds

91.87%

sold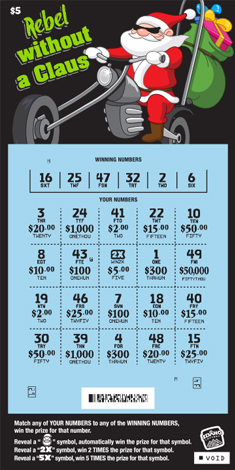 This year, it's Santa who's saying "Get your motor running and head out on the highway" as he dons the dark sunglasses and fires up the chrome and steel to deliver this year's presents. Cruisin' down the highway with a bag of presents hanging from the back of the bike, Santa is on a mission to deliver prizes, cash prizes, ranging from $5 up to a chimney topping $50,000!
To play the game, players scratch off WINNING NUMBERS hidden under the green money bags just below Santa's bike. Then you match any of YOUR NUMBERS hidden under the red wrapped packages to any of the WINNING NUMBERS. If you match, you win the prize for that number. If you reveal a "Santa" symbol, you automatically win the prize for that symbol. If you reveal a "2X" symbol, you win two times the prize for that symbol. If you reveal a "5X" symbol, you win five times the prize for that symbol.
This year's Santa's sled got an upgrade and arrives with a little more thunder and cash. Play Rebel without a Claus for this year's chance at winning $50,000. That might get your motoring running!
HOLIDAY BONUS 2ND CHANCE $1,000 PRIZES
There are two things synonymous with the first snowfall of winter: building a snowman and a good ol' fashioned snowball fight. But who would have ever thought that a snowball fight could win you an extra $1,000 this winter? That's enough to make any holiday merry and bright.
Every non-winning, 2020 Idaho Lottery holiday-themed Scratch ticket has a second chance app code hidden in the play area. The code can only be used through the Idaho Lottery's VIP Club web portals. Players enter the code for their chance to win one of five, $1,000 second chance prizes. This promotion begins on October 5, 2020 and runs until January 31, 2021.
Number of Prizes
Prize Amount
Remaining Prizes
Odds
2
$50,000
0
215550
3
$1,000
0
143700
51
$300
9
8453
1146
$100
64
376
4050
$50
309
106
17213
$25
1410
25
25962
$10
not available*
17
74687
$5
not available*
6
*Real time data on prizes below $25 are not available.
All tickets, transactions, and winners are subject to Lottery Rules and State Law. Prizes must be claimed within 180 days after the official end of game. Persons altering tickets are subject to prosecution. You must be at least 18 years old to purchase a ticket.