$1,000

Top Prize

$1

Ticket

1:2.22

overall odds

87.12%

sold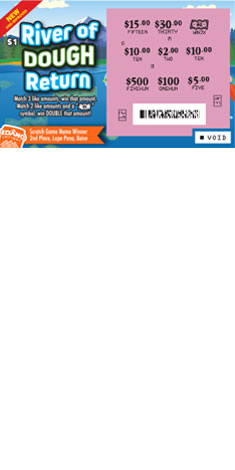 Idaho is famous for its wild, raft running rivers. The Payette, Hells Canyon and the Snake River, the Clearwater, and the River of No Return in the Frank Church Wilderness, the Salmon, one of the last and longest undammed rivers in the continental United States. To honor one of Idaho's proudest heritages, Lupe Pena of Boise submitted the game name River of Dough Return through the Idaho Lottery's Name that Scratch Game contest last spring. It was clearly a winner, taking the second-place prize.
The game showcases the famous canyons of the untamed Salmon River, a river raft running the rapids, and splashing up cash. And while you won't need a life jacket to play this game, it does have heart pounding excitement just like a Class IV wave, featuring prizes up to $1,000.
To play the game, scratch the raft full of money. If you match three like dollar amounts, you win that amount. If you match two like dollar amounts, and have a dollar bill symbol, you win double that prize amount.
As spring starts to unfold across Idaho and thoughts turn to a summer spent outdoors, pick up your oars and a River of Dough Return ticket. It's as scenic as it is fun to play, plus, you might be rafting, er, scratching your way to winning $1,000.
SECOND CHANCE
Players may enter any non-winning River of Dough Return tickets for a chance to win one (1) of two (2) weekly $100 cash prizes. Visit http://vip.idaholottery.com/2ndChance for more details.
Number of Prizes
Prize Amount
Remaining Prizes
Odds
2
$1,000
2
429600
15
$100
5
57280
1439
$30
415
597
2152
$20
not available*
399
2864
$10
not available*
300
4994
$5
not available*
172
66575
$2
not available*
13
308632
$1
not available*
3
*Real time data on prizes below $25 are not available.
All tickets, transactions, and winners are subject to Lottery Rules and State Law. Prizes must be claimed within 180 days after the official end of game. Persons altering tickets are subject to prosecution. You must be at least 18 years old to purchase a ticket.