$50,000

Top Prize

$5

Ticket

3.50

overall odds

41.85%

sold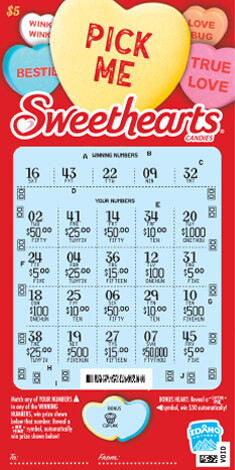 This Valentine's season we want to share the LOVE with the Sweethearts Candies Scratch Game. Enjoy 20 unique tickets with different sayings like "Cutie Pie" and "Honey Pie". Plus, there are cash prizes up to $50,000. Sweethearts is the perfect gift for a friend, a teach, a spouse or a treat for yourself.

Wanna share the LOVE with a school HERO? From January 9 - 31, 2023, we are collecting nominations for 20 school heroes across the state of Idaho. These every day heroes could be a teacher, janitor, counselor, or anyone else currently working at an Idaho public school! Click here to nominate now.
Match any of YOUR NUMBERS to any of the WINNING NUMBERS, win prize shown below that number. Reveal a "BE MINE" symbol, automatically win prize shown below!

BONUS HEART: Reveal a "CUTIE PIE" symbol, win $50 automatically!
Number of Prizes
Prize Amount
Remaining Prizes
Odds
2
$50,000
1
1:247200
5
$1,000
4
1:98880
132
$500
82
1:3745
775
$100
470
1:638
5354
$50
3396
1:92
9888
$25
6282
1:50
19776
$15
not available*
1:25
23072
$10
not available*
1:21
82400
$5
not available*
1:6
*Prizes are updated once daily. Prizes below $25 are not available. *Includes instant and spin prizes.
All tickets, transactions, and winners are subject to Lottery Rules and State Law. Prizes must be claimed within 180 days after the official end of game. Persons altering tickets are subject to prosecution. You must be at least 18 years old to purchase a ticket.