They came prepared for the weather event of 2023. No, it was not the record amount of snowfall that beguiled the Gem State in March, but rather teachers, administrators, and PTO members who were ready to brave the "Brain Storm" during the Idaho Lottery's 22nd year of Scratch for Schools.
School participants truly embraced the fun atmosphere showing off their school pride by wearing outrageous costumes or game specific, "Brain Storm", handmade shirts or outfits. There was a lot of camaraderie and esprit d' corps among the participants and schools this year, not to mention a lot of winning.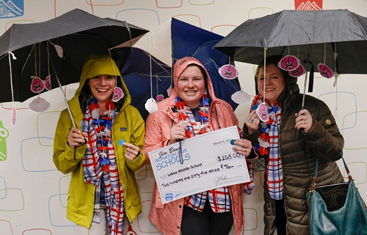 Lakes Middle School at Coeur d'Alene Event
"Schools that come dressed for the fun seem to win more," said one teacher from Meadows Valley during the McCall event. She would be correct, especially considering she and her teammates came dressed up and won $765!
The Idaho Lottery's long-standing fundraiser Scratch for Schools completed one of its most successful series in program history. A total of 441 public schools participated in one of ten events, an increase of 16% over the previous year. The participants won more than in any other year as the program returned a record $152,680 to schools for individual classroom needs.
The events in Nampa, McCall, Salmon, Pocatello, and Twin Falls all had record numbers of schools participating this year. In fact, this year's event in Twin Falls hosted more schools than the event in Boise. The events in Idaho Falls, Sandpoint, and Coeur d'Alene each were one school shy of perfect attendance. In all, more than 1,300 school members from all corners of Idaho joined the Lottery for the fun, excitement, and party atmosphere that characterized these events.
This year's Scratch for Schools game was called "Brain Storm" and the ticket was only available at Scratch for Schools venues. This specialized game featured more winning experiences and more prizes than ever before.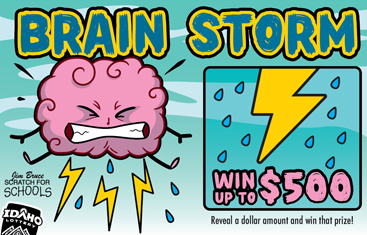 Every school left happy with big winnings and an equal number of smiles to go around. This year, three schools were the top winners, claiming $965 each. They were Victory Charter School in Nampa, Greensferry Elementary in Post Falls, and Hansen Jr./Sr. High in Hansen. To win this amount, the schools would have been one of the top scratching teams at their event AND had a pack of tickets with a $500 winner, making them both good and lucky! In all, twenty-five lucky schools won a $500 prize this year.
Who was the fastest scratching schools in the State? An elite club of schools broke the "190 Tickets Scratched in Five Minutes" mark, including East Canyon Elementary from Nampa who got all 200. Other top scratching schools this year included Temple View Elementary from Idaho Falls (198 tickets scratched), Marsh Valley Middle School from Arimo (198 tickets scratched), Castleford High School (193 tickets scratched), and then Castleford Elementary from Castleford and Timberline High School from Weippe (both with 192 tickets scratched). And the fastest venue, where all the schools recorded the highest average of tickets scratched in five minutes? This honor went to the event in Lewiston where the average number of tickets scratched by all schools was a blistering 144 tickets!
To see a complete breakdown of the school and winnings this year, click here!