$200,000

Top Prize

$20

Ticket

1:3.30

overall odds

0.01%

sold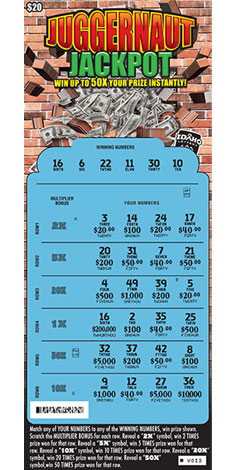 Juggernaut can be defined as a massive inexorable force that crushes whatever is in its path.
Juggernaut Jackpot, therefore, could be defined as a winning force that with an unstoppable top prize of $200,000.
Either way, you may need to be prepared for the winnings this behemoth of a game has to offer. Dollar bills are exploding through brick walls as this game steamrolls into stores with its prize punching prowess.
Juggernaut Jackpot has it all, including prizes of $1,000, $5,000, even $10,000 in addition to the colossal top prize of $200,000! In fact, you can even multiply your prizes up to 50 times instantly on any given ticket.
Watch out for Juggernaut Jackpot when you visit stores. It will be the one busting through the dispensers with cash. Okay, really, it's the big red, green, and gold ticket with money exploding through a brick wall as the artwork.
Play Juggernaut Jackpot today for you unstoppable chance at $200,000!
Prize Amount
Number of Prizes
Remaining Prizes
Odds
$200,000
2
2
262125
$10,000
3
3
174750
$5,000
6
6
87378
$1,000
25
25
20970
$500
876
860
598
$200
4367
4305
120
$100
17501
17202
30
$50
20969
20608
25
$40
31465
30915
17
$20
83880
not available*
6
* Real time data on prizes below $25 are not available.
All tickets, transactions, and winners are subject to Lottery Rules and State Law. Prizes must be claimed within 180 days after the official end of game. Persons altering tickets are subject to prosecution. You must be at least 18 years old to purchase a ticket.